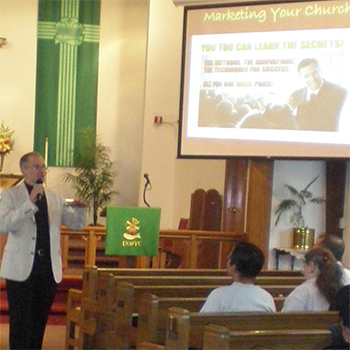 EVANGELISM 101 – CHURCH MARKETING 201
These are the workshops you have been hearing about !
EVANGELISM 101 – There are no workshops at this time.
Not your everyday evangelism workshop and certainly not what you expect, as this workshop will completely change your vision of evangelism. A great starting place, Evangelism 101 will give you the basic tools to begin evangelism right at your own front door, as you learn to prepare our congregation to reach out, and more importantly to expect and welcome newcomers to your church. As one recent participant said, "If everyone attended this workshop, our membership would be increasing, not decreasing." Be energized — and schedule a date for Evangelism 101.
CHURCH MARKETING 201
This workshop presents the "next step" in evangelism — marketing your church. Once you have "started" the process your church is ready to embark on the journey of effective outreach. You will learn inexpensive techniques, see examples of good materials from many churches, and hopefully, armed with new skills and new ideas. You can do this – it's not as hard as you think!
It is highly recommended that you attend Evangelism 101 prior to Church Marketing 201.